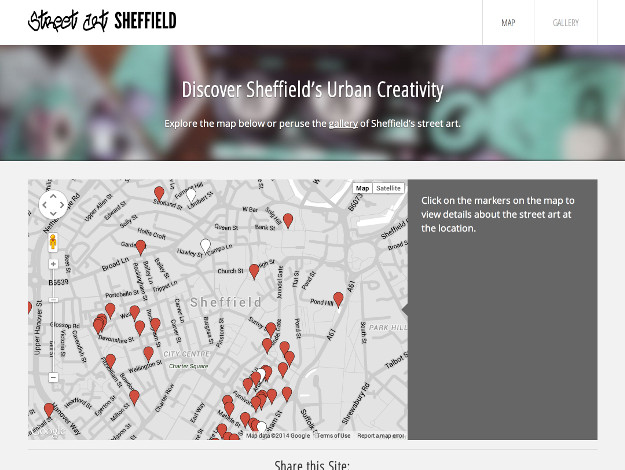 Launched a little over a month ago, Street Art Sheffield is a personal project I've been working on this year. It's a showcase for the fantastic street art found across Sheffield, the city I call home.
I've always been a fan of street art, occasionally sharing pictures of it on this site. About a year ago I started taking photos of all the great graffiti I spotted as I was moving around the city. After being asked by a friend what I was doing with all the pictures I came up with the idea of building a site to post them and pinpoint them on a map of the city.
At the same time I'd been playing with the PHP framework Laravel and wanted a real project to put what I'd learnt to good use. So Street Art Sheffield was born.
The site has been developed using Laravel from scratch and utilises Google Maps. For the frontend I made extensive use of Gulp and Bower.
The design uses my own photography, Font Awesome and some custom icons I designed using the excellent Affinity Designer.
I've still got lots planned for the site but there's already a lot to see on there, so go check out Street Art Sheffield today!